Medical Library
Loading...Please Wait
Tibialis Posterior Tendonitis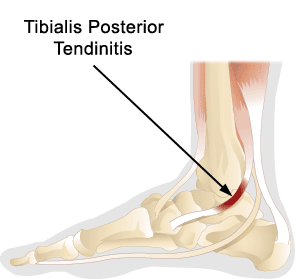 This often occurs in overweight, middle aged women and men as a result of degenerative changes in the tendon. The rupture may be partial or complete with pain below or behind the inside ankle bone (medial malleolus). A flattened arch is common. Anti-inflammatory treatment (physical therapy modalities), orthoses, and surgical debridement are common treatments.
Possible Treatment Goals
Improve Balance
Improve ability to bear weight/stand on the leg(s)
Decrease Risk of Reoccurrence
Improve Fitness
Improve Function
Improve Muscle Strength and Power
Increase Oxygen to Tissues
Improve Proprioception
Improve Range of Motion
Self-care of Symptoms
Improve Tolerance for Prolonged Activities
Additional Resources
Disclaimer
The information in this medical library is intended for informational and educational purposes only and in no way should be taken to be the provision or practice of physical therapy, medical, or professional healthcare advice or services. The information should not be considered complete or exhaustive and should not be used for diagnostic or treatment purposes without first consulting with your physical therapist, occupational therapist, physician or other healthcare provider. The owners of this website accept no responsibility for the misuse of information contained within this website.